The Barnett Foundation believes that safe, secure accommodation enhances life outcomes, especially for the family unit.
The Barnett Foundation is committed to:
1)  Developing additional crisis and transitional housing for management by others.

TBF intends to achieve this by: 
Investing donated and internally generated funds into the development and/or acquisition of crisis and transitional housing assets;
2)  Creating vacancies in the social housing portfolio:
TBF intends to achieve this by
Operating a sustainable business model developing residential apartments for sale to social housing tenants;
enabling these tenants, especially families, to acquire the apartments by providing them with additional, interest free funding conditional on the surrender of their social housing lease; and
reinvesting the funds generated by these activities into additional residential apartment projects.
3)  Enhancing the financial literacy skills of social housing tenants:
TBF intends to achieve this by:
Providing or facilitating financial literacy courses specifically designed for residents of social housing.
The Foundation will:
seek seed capital from financial supporters and generate funds from its internal operations;
ensure all funds, donated or generated, are applied to deliver on its purpose; and
create a self-sufficient business model; applying business disciplines for social purposes whilst maintaining its core social ethos.
The Barnett Foundation has been granted Public Benevolent Institution status by the Australian Charities & Not-for profits Commission and Deductible Gift Recipient and Income Tax Relief status by the Australian Taxation Office.
o
Download the independent report
prepared by the University of Melbourne
on Investigating the Costs and Benefits
of the Melbourne Apartments Project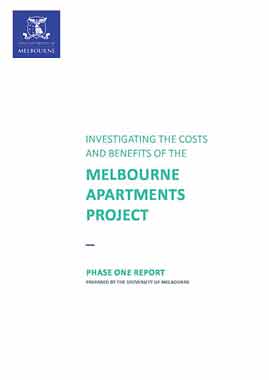 Download the independent report
prepared by the University of Melbourne
on Evaluating the Outcome and Scalability
of an Affordable Homeownership Model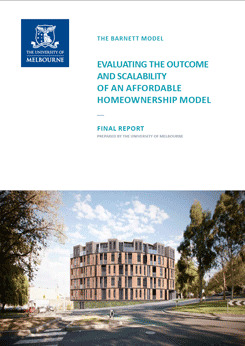 o